autonesian.com – Majalah MobilMotor kembali mengumumkan penghargaan mobil terbaik dalam ajang MobilMotor Indonesian Car of The Year (ICOTY) 2017 yang digelar setiap tahunnya dan bertujuan memberikan informasi tepat untuk pilihan cermat calon pembeli mobil agar lebih jernih dalam memilih.
Sebagai gelaran yang ke-16, penghargaan ini kembali menunjukan keberhasilan dari mobilmotor ICOTY yang digelar sejak awal tahun hingga pertengahan November 2016 dengan menguji seluruh kendaraan di kawasan Sentul.
Tahun ini mobilmotor Indonesian Car of The Year 2017 (mobilmotorICOTY 2017) merupakan gelaran yang ke-16, ini menunjukan keberhasilan dari mobilmotorICOTY. mobilmotorICOTY 2017 dilakukan di kawasan Sentul sejak awal hingga pertengahan November 2017.
Dalam pengujiannya, para juri mobilmotor memiliki kunci utama dalam pengujian serta penilaian terhadap kualitas mobil yang meliputi secara teknis, after sales & service dan kehandalan saat dikendarakan.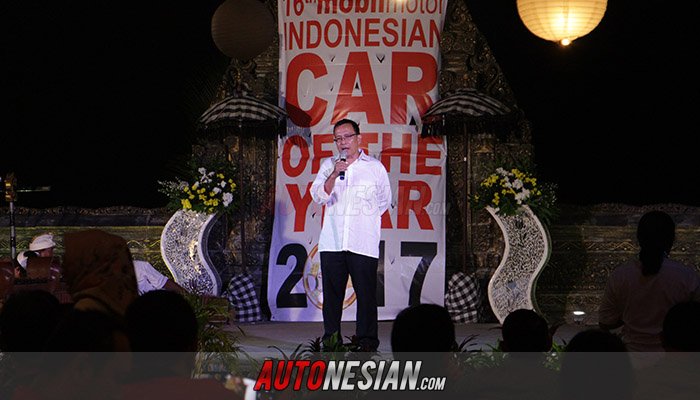 Terdapat 29 finalis dari 9 kategori yang diuji oleh 5 orang juri independen untuk menilai kualitas kendaraan secara langsung serta 4 juri yang bertugas mengukur performa mobil-mobil finalis.
Selama pengujian, semua mobil diperlakukan sama termasuk dalam penggunaan bahan bakarnya, sesuai spesifikasi masing-masing. Bahan bakar yang dipergunakan adalah produk Pertamina meliputi Pertamax, Pertamax Turbo dan PertaminaDEX.
"Dengan menghadirkan mobilmotor Indonesian Car of The Year 2017, kami menyuguhkan secara tuntas apa yang sebaiknya dipilih oleh konsumen mobil di Indonesia," jelas Rudi Kurniadi, Pimpinan Redaksi majalah mobilmotor di Jakarta, Rabu (29/11/17).
Berikut Daftar mobil terbaik dengan nilai tertinggi perkategori versi MobilMotor ICOTY 2017 :
– City Car / LCGC : All New Suzuki IGNIS
– Small MPV : All New Wuling Confero S
– Medium MPV : Toyota Kijang Innova Venturer
– Full Size MPV : All New Toyota Voxy
– Medium Sedan : All New Toyota Vios
– Sedan : All New BMW i320
– Sedan Hatchback : All New Honda Jazz
– SUV : All New Chevrolet Trailblazer
– SUV Compact : All New Honda CRV Turbo 1.5
Selain Juara per kategori MobilMotor Indonesian Car of The Year 2017, MobilMotor juga memberikan penghargaan sebagai:
Best of The Best Mobilmotor Indonesian Car of The Year 2017 :
– Toyota All New Voxy
Best Value for Money mobilmotor Indonesian Car of The Year 2017  :
– Suzuki All New Baleno
Best Design mobilmotor Indonesian Car of The Year 2017 :
– All New Mazda 6
Best Performance mobilmotor Indonesian Car of The Year 2017 :
– Honda All New CR-V Turbo 1.5
Baca Juga :