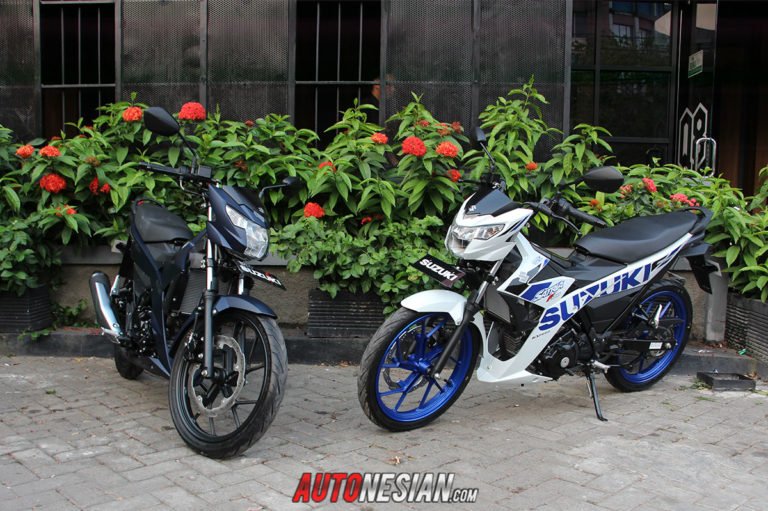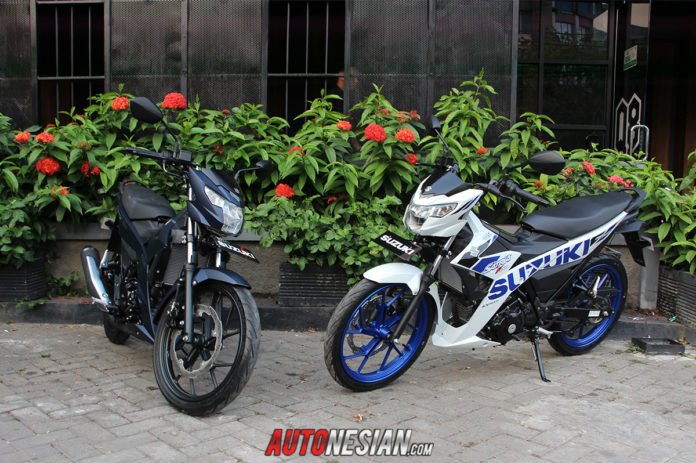 Autonesian.com – PT Suzuki Indomobil Sales (SIS) kembali memberikan penyegaran kepada All New Satria F150 dengan pilihan warna dan striping baru yang dibagi menjadi 2 varian.
Adapun penyegaran 2 varian terhadap  All New Satria F150 yakni menghadirkan varian All New Suzuki Satria F150 Special Edition dan Predator dengan mendapatkan kombinasi warna terbaru.
Pada varian All New Satria F150 Special Edition, hadir dengan warna Met diantaranya Triton Blue, Titan Black – Rogue Red CW dan Brilliant White-Vigor Blue CW dengan mengusung design striping yang berbeda dan lebih dinamis.
Sedangkan untuk varian All New Satria F150 Predator hadir dengan mempertahankan tampilan dan kemewahan melalui warna Solid Black dan warna baru Met yakni Met Stellar Blue.
Autonesian Youtube Channel

Namun terdapat perbedaan fitur antara kedua varian, jika pada varian Special Edition telah dilengkapi Alarm dan Color Casting Wheel, maka pada varian Predator mendapatkan Alarm, USB Charger, dan 3D emblem logo.
Namun demikian, kedua varian All New Satria F150 tetap sama dibekali mesin 150cc Double Over Head Camshaft (DOHC) berteknologi fuel injection yang bertenaga dengan transmisi 6 percepatan serta memberikan sensasi kecepatan yang memuaskan di setiap putaran mesin.
"Di industri sepeda motor, Suzuki All New Satria F150 itu sudah memiliki tempat tersendiri dan sulit tergantikan. Modelnya yang khas dan performanya yang cepat selalu memberikan adrenalin yang berbeda bagi pengendaranya,"ujar Yohan Yahya, Dept. Head of Sales & Marketing 2W SIS.
Yohan juga menambahkan, Sebagai produk yang sudah memiliki image yang baik, kami tidak lupa untuk terus memberikan sentuhan penyegaran agar semakin banyak publik yang mencintainya.
Motor Suzuki All New Satria F150 ini dapat dimiliki oleh calon konsumen di Tanah Air terhitung mulai pertengahan bulan Oktober 2019, dengan bandrol harga yaitu Rp 24.795.000,- untuk wilayah DKI Jakarta (on the road), dan berlaku sama untuk kedua varian.
Sementara kehadiran varian baru ini, pihak Suzuki mengharapkan dapat mengiringi perkembangan tren gaya hidup yang terus berubaha sekaligus mewakili semangat target pengguna yang unik dan berani tampil beda dari yang lain.