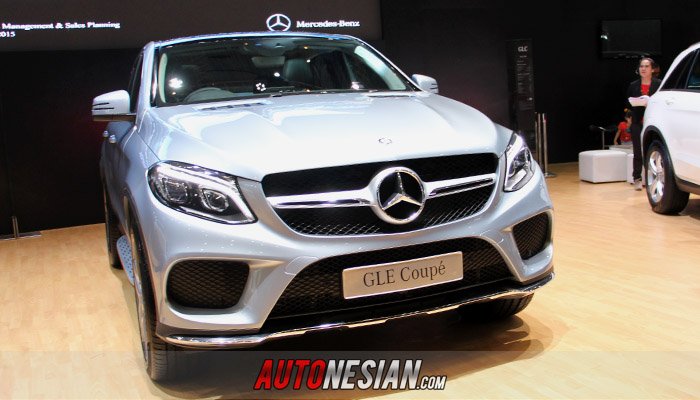 autonesian.com – Mercedes-Benz Indonesia (MBI) turut berpartisipasi dalam perhelatan Jakarta Auto Show (JAS) pertama yang diadakan di Jakarta Convention Center (JCC). Dengan kesempatan ini juga Mercedes-Benz Indonesia pertama kali di Indonesia memperkenalkan Mercedes-Benz GLE 400 AMG Coupe.
"Suatu kebanggaan bagi kami dapat turut berpartisipasi dalam pameran otomotif JAS 2015 yang diadakan untuk pertama kalinya ini. Dan kami menawarkan jajaran kendaraan andalan untuk memperkuat segmen Sports Utility Vehicle (SUV) premium di Indonesia, salah satunya Mercedes-Benz GLE 400 AMG Coupe," Roelof Lamberts selaku sales and marketing director for passenger cars MBI.
Mercedes-Benz GLE 400 AMG Coupe, kendaraan yang memadukan karakter coupé dan SUV yang dinamis dan bertenaaga, Mercedes-Benz the All New GLC, sebuah kombinasi cerdas dari fungsi dan ketangkasan kendaraan SUV modern, Mercedes-Benz GLA Class, SUV berukuran compact yang memadukan fleksibilitas, dan efisiensi.
Mobil yang dibekali mesin berkapasitas 2.996c V6 ini diklaim bisa mengeluarkan tenaga mencapai 245 KW dan torsi maksimum 480 nm pada putaran 1.600-4.000rpm dengan mempergunakan sistem transmisi sembilan percepatan 9G-TRONIC. Untuk masalah harga Mercedes-Benz GLE 400 AMG Coupe dibanderol Rp1,599 miliar off the road Jakarta.