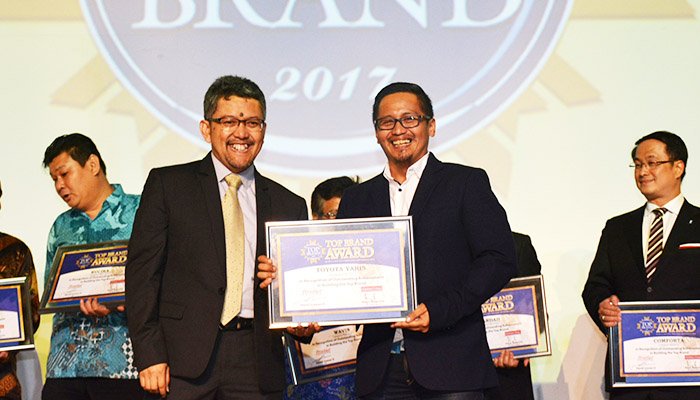 autonesian.com – Melalui produk Toyota kembali mendapatkan apresiasi yang mendalam dari pelanggan. Tiga produk andalan PT Toyota-Astra Motor (TAM) berhasil meraih gelar prestisus untuk kategori otomotif dalam ajang Top Brand Award 2017.
Dalam penyerahan penghargaan yang digelar oleh Frontier Consulting Group di Jakarta, hari ini, Toyota Avanza dan Toyota Kijang Innova meraih penghargaan di kategori MPV Car. Selain itu, TAM juga berhasil menerima Top Brand Award 2017 untuk Toyota Yaris di kategori City Car.
"Terima kasih atas apresiasi yang diberikan pelanggan kepada produk-produk Toyota melalui penghargaan Top Brand Award 2017 yang kami terima. Penghargaan ini menjadi bukti bahwa produk-produk andalan kami sudah melekat dan menjadi pilihan pelanggan di segmennya masing-masing," ujar Marketing Planning Division Head TAM, Fransiscus Soerjopranoto, Senin (27/02/17).
Top Brand Award diberikan kepada lebih dari 100 merek di Indonesia dari berbagai kategori industri yang telah berhasil meraih 3 parameter merek, yakni Top of Mind Share, Top of Market Share, dan Top of Commitment Share.
Pemenang Top Brand Award 2016 diperoleh melalui riset dan survei yang melibatkan 12.200 responden di 15 kota di Indonesia (Jakarta, Bandung, Semarang, Surabaya, Medan, Makassar, Pekanbrau, Balikpapan, Palembang, Samarinda, Denpasar, Jogjakarta, Malang, Manado dan Banjarmasin.
Metodologi pengumpulan data yang dilakukan adalah wawancara langsung (face to face interview) dengan menggunakan kuesioner sebagai instrumen pengumpulan data.
Baca Juga :