autonesian.com – Menjelang akhir tahun, selaku Main Dealer Motor Honda Area DKI Jakarta dan Tangerang menggelar kegiatan khusus di bidang safety riding yang digelar dalam dua kegiatan.
Dua kegiatan tersebut yaitu Safety Riding Fun Rally pada 10 – 12 Desember di Cipanas, Jawa Barat. Dan kedua  seminar yang diadakan pada Kamis, 15 Desember lalu di Safety Riding Center Wahana Honda Jatake, Tangerang.
Safety Riding Fun Rally bertemakan Pengendara Cerdas Taat Aturan Lalu Lintas diikuti 75 orang dari komunitas motor Honda. Peserta start dari kantor Wahana Honda di bilangan Gunung Sahari dan finish di Puncak Pass.
Autonesian Youtube Channel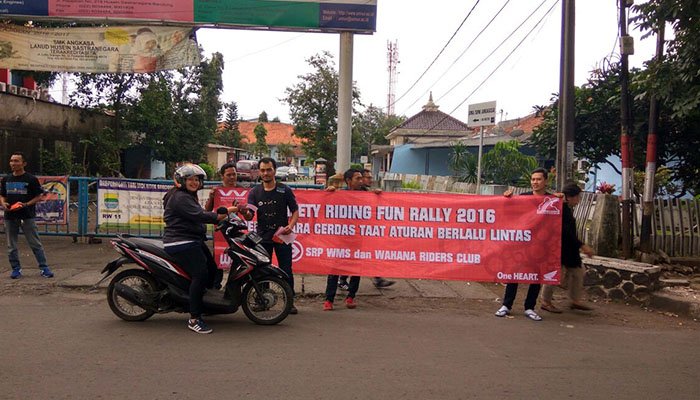 Mereka juga memberikan leaflet safety riding kepada pengendara sepeda motor di perempatan lalu lintas serta membentangkan spanduk kampanye. Beberapa titik yang menjadi sasaran kampanye yaitu perempatan Pasar Baru Jakarta Pusat, dan perempatan Gaplek Tangerang Selatan.
Menurut Taufiqurrahman, Head of Technical Service Function kegiatan yang diadakan Wahana Honda ini bertujuan mengajak masyarakat untuk selalu waspada dan menjaga keamanan di jalan dengan cara mentaati aturan lalu lintas.
Selain Safety Riding Fun Rally, Wahana Honda adakan seminar bertema Budayakan Aman Berlalu Lintas ini bekerjasama dengan Dikyasa Polres Tangerang Selatan. Peserta yang hadir berjumlah 130 orang berasal dari siswa SMK/SMA, Guru, dan anggota klub motor Honda.
Seminar yang dibuka oleh Agus Sani, Head of Safety Riding Promotion Wahana Honda yang memaparkan teori serta praktik safey riding. Lalu dilanjutkan dengan pemaparan aman berlalu lintas oleh AKP Lestina selaku Kanit Dikyasa Polres Tangerang Selatan.
Peserta sangat antusias karena dalam seminar ini dipaparkan fakta bahwa masih banyak pengguna jalan di Tangerang yang tidak menggunakan helm pada saat berkendara. Hal ini dikuatkan dengan ditampilkannya video dan gambar-gambar kecelakaan.
"Kami ingin agar pengendara motor sadar bahwa helm merupakan perlengkapan vital yang tidak boleh dilupakan," kata AKP Lestina.
Usai seminar, peserta diajak terlibat langsung dalam kampanye tertib lalu lintas. Mereka menyebarkan leaflet dan membentangkan spanduk tertib berlalu lintas bagi pengendara motor di sekitar Jalan Raya Gatot Subroto, Jatake Tangerang.
"Kegiatan ini tujuannya menggugah pengendara agar lebih peduli terhadap keselamatannya dan juga orang lain, seminar ini tidak akan sekali saja diadakan namun akan berkelanjutan. Jadi siap-siap saja siswa sekolah, guru dan klub motor menerima undangan Wahana Honda," kata Agus Sani. .
Sekolah, korporasi maupun kantor pemerintahan yang tertarik menimba pengetahuan safety riding juga dapat mengirimkan peserta ke Safety Riding Center Wahana Honda. Beragam fasilitas disediakan mulai dari safety gear hingga motor Honda untuk praktik. Pendaftaran dapat dilakukan secara online melalui www.safetyridingwms.com.
Baca Juga :