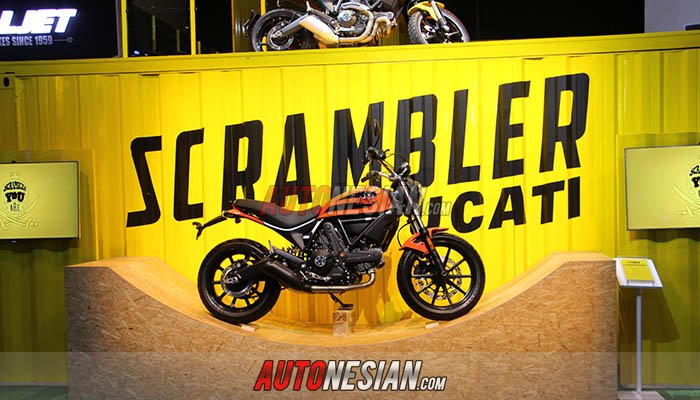 autonesian.com – Selaku Agen Pemegang Merek (APM) Ducati di Indonesia, PT Garasindo Eurosport akhirnya membawa Ducati Scrambler ke tanah air pada ajang Indonesia International Motor Show (IIMS) hingga 17 April 2016, di hall B6, JiExpo Kemayoran, Jakarta Pusat.
Tidak tanggung-tanggung, Ducati Indonesia membawa semua line Up Scrambler salah satunya Sixty2 yang didukung mesin berkapasitas 500 cc dan varian paling lengkap di jajaran Scrambler 800. Merek asal Italia ini menempati booth yang didominasi warna kuning serta kontainer yang mencirikan karakter Scrambler Ducati dengan mengusung konsep "The Land of Joy" yang menempati luas both 430.5m² terbagi dua untuk brand Ducati dan Scrambler Ducati.
"Ducati Indonesia memilih momentum ajang IIMS 2016 untuk melakukan brand dan product launch guna meningkatkan citra brand Ducati di Indonesia, memperkuat penetrasi Ducati di segmen motor premium sekaligus untuk memperkokoh posisi Ducati sebagai motor premium terbaik di Indonesia," ungkap Dhani Yahya, Managing Director, Ducati Indonesia.
Buat kami Scrambler Ducati menjadi salah satu model yang spesial dengan terbukti saat ini penjualan Ducati menempati posisi Top-Ten Best Selling Motorcycles in The World dengan total penjualan 16,000 unit Scrambler Ducati, tutup dhani.
Baca Juga :