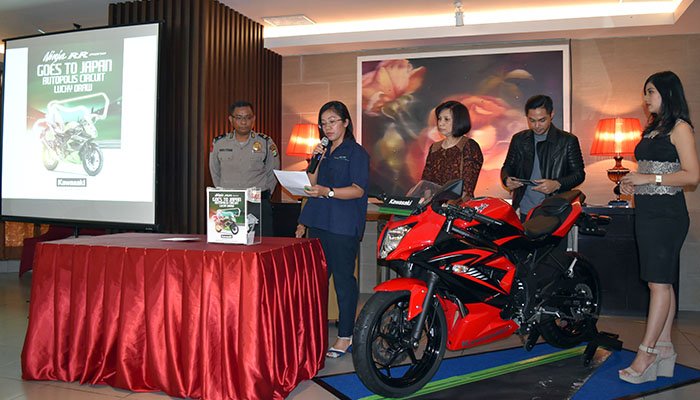 autonesian.com – PT. Kawasaki Motor Indonesia (KMI) baru saja telah melakukan pengundian untuk program lukcy draw Ninja RR Mono "Kawasaki Goes To Japan" di Ming Dining resto, Senayan City, Jakarta Selatan, Rabu (27/01/16).
Penarikan undian program ini dilakukan oleh 3 orang perwakilan dari KMI, salah satunya Michael C.Tanadhi, Deputy Head Sales and Promotion. KMI mengundi kupon yang telah diisi oleh pembeli Ninja RR Mono dari tanggal 1 Oktober – 31 Desember 2015. Pengundian ini melibatkan banyak saksi, antara lain Kemensos, Notaris, dan kepolisian.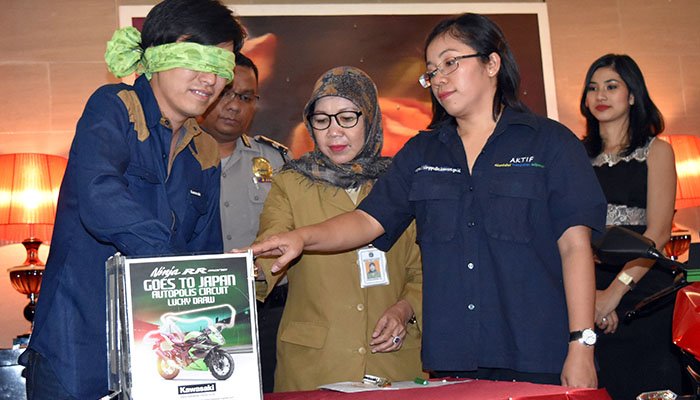 Dari sebanyak puluhan kupon, terpilih 10 orang pemenang dari berbagai daerah di Indonesia yang mendapatkan hadiah berupa perjalanan ke Jepang, bebas biaya akomodasi. Perjalanan ke Jepang akan dilakukan di bulan April 2016, bertepatan dengan berseminya bunga Sakura. Agenda penting yang akan dilakukan oleh Pemenang selama perjalanan adalah menjajal sirkuit milik Kawasaki di Jepang, yaitu Autopolis Circuit, dengan menggunakan Ninja RR Mono.
"KMI merupakan ATPM pertama yang mengajak konsumen untuk langsung turun ke sirkuit yang ada di Jepang dan  anyak sekali value yang didapatkan oleh konsumen Ninja RR Mono, bukan hanya sekedar mendapatkan motor yang bagus, tapi juga pengalaman berharga yang tidak terlupakan." Ucap Michael C. Tanadhi saat melakukan press conference.
Baca Juga :