autonesian.com – Ajang Indonesia International Motor Show (IIMS) 2016 telah berakhir pada Minggu (17/4), pada malam penutupan tersebut dilangsungkan juga pemberian penghargaan salah satunya Miss Motor Show 2016. Miss Motor Show 2016 sebuah kontes yang melibatkan wanita-wanita cantik yang menjadi SPG berbagai APM itu mendapat aplaus meriah saat seluruh finalis berjalan di atas 'cat walk', tak kalah penampilan dengan model-model profesional.
Dari 50 peserta awal, akhirnya tersisa 7 finalis dan pada akhirnya terpilihlah Estherlita (Toyota) menjadi Miss Motor Show 2016. Runner up I dan II milik Kezia Whilhemia (Nissan) dan Cindy Larisa (Astra Honda Motor). Empat katagori lainnya diraih Lalita (Mitsubishi/Miss Favourite), Michaella (Garansindo/Miss Automotive), Jessica Claudia (Toyota/Miss Congeniality), dan Zhillabella (Mercedes Benz/Miss Fotogenic).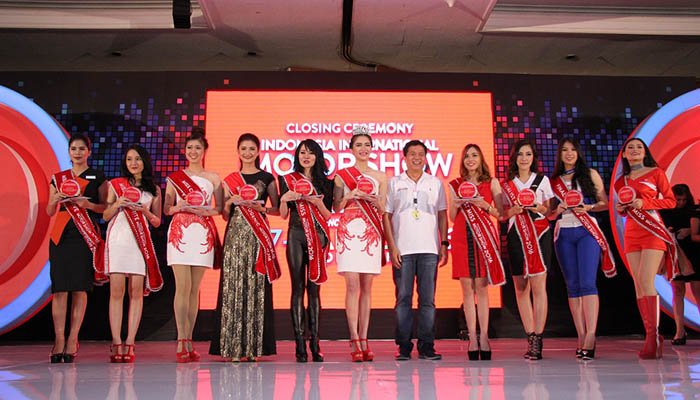 Selain pemilihan Miss IIMS 2016, dimalam puncak tersebut dilangsungkan juga pemberian penghargaan kepada berbagai pihak sebagaimana tradisi IIMS selama ini. Selain penghargaan buat Grand Prix International (GPI) Thailand – pemilik event Bangkok International Motor Show – yang jadi mitra IIMS sejak tahun lalu, juga diberikan penghargaan kategori The Best berbagai aspek lewat kriteria dan penjurian yang ketat.
IIMS 2016 juga memberikan beberapa penghargaan seperti Best Booth, Best Booth by Visitor Choice, Best Buy Car IIMS 2016, Best Buy Motorcycle IIMS 2016, Best Car of the Show IIMS 2016, Best Motorcycle of the Show IIMS 2016, Best Booth Activity, dan Best After Sales Promo.
Berikut adalah daftar pemenang The Best di IIMS 2016.
1. Best Booth
>1.400 m2 : Toyota
701 -1400 m2 : Mercedes Benz
2. Best Booth by Visitor Choice : Honda
3. Best Buy Car IIMS 2016: Toyota All New Sinta)
4. Best Buy Motorcycle IIMS 2016: Royal Enfield Classic 500
5. Best Car of the Show IIMS 2016: Honda All New Civic Turbo
6. Best Motorcycle of the Show IIMS 2016: Ducati Scrambler Sixty2
7. Best Booth Activity: Mitsubishi Motors
8. Best After Sales Promo: Gulf Oil
Baca Juga :